What types of casement windows can you provide? Casement windows are gaining popularity among homeowners, and this is the most popular question they may ask when they visit the window store.
What is a casement window and how many types are there? Let's find out in this blog.
A casement window is a conventional type of window, mounted on hinges and opens outwards or inwards in a new construction. Some owners, though, prefer the crank on the outside to open the window on the other side. You just need to turn the handle to have it opened.
What Exactly Are Casement Windows and Doors?
Casement windows include a crank that allows the operator to open and shut the window on a hinge. The crank can completely open the window or seal it very securely, providing great control over the amount of ventilation.
The direction in which casement windows are built may be horizontal or vertical, depending on the homeowner's desire. The function of vertical windows is more akin to that of awning windows that can be extended upward and outward.
When closed, casement windows that have been fitted correctly will create a tight seal, preventing the weather outside from impacting the temperature within the property. Consequently, they are one of the most cost-effective and energy-efficient options that can be used in a residential setting (just like an awning window).
Due to their great engineering quality and innovative design, casement windows are one of the most popular alternatives for homeowners when replacing their windows.
They are a breeze to install, are adaptable to any architectural style, and are a wonderful way to boost the aesthetic value of a property. They are versatile and may be used to accentuate various architectural styles, leaving your visitors in awe.
Types of Casement Windows
Several types of casement windows are available in the market. Here are some popular types with their benefits:
Push Out Casement Windows
As a new type, push out casement windows are available in both single and double styles. Instead of the crank, the user operates them through a handle. These windows are becoming increasingly popular among homeowners due to their innovative design and customization options.
Crank Out Casement Windows
A crank out is a casement that uses a crank to open and close. The design is similar to a conventional casement window, but it's the way that the window is opened and shut that makes the difference.
Crank mechanism: A crank out casement has a handle that is usually found at the bottom of the frame. The crank handle activates the gearing system which opens or closes your window sash.
Outward opening: A crank-out casement window, like all other casement windows opens outwards, pivoting at hinges on the frame of one side. The sash will open when you turn the crank handle one way, but it will close if you turn the crank handle the other direction.
Secure Close: When shut, crank-out casement windows create a tight seal that keeps out moisture and drafts. The sash is pressed against the frame of the window, creating a tighter seal when the handle is in the closed position.
Single Casement Windows
Perhaps the most popular of all types, the evergreen single frame casement windows still remain popular. These windows boast a simple yet elegant look and are remarkably easy to operate and maintain.
A single window frame comprises glass panels (lights) housed within a single frame. Aluminum strips separate these lights. As a user, you can opt to have your casement window open outwards or inwards (which you cannot do with a picture window).
Double Casement Windows
As the name suggests, double casement windows are made of two or more windows hinged together from the sides. Both window panels swing outwards and join in the middle for closure.
Since these consist of two panels, they cost a little more than their single panel counterparts. However, they are equally reliable and maintenance-friendly as a window replacement, so you can save money in the long term with these windows.
Top Hung Casement Window
This type of casement window hinges at the top, and opens from the bottom. Top-hung windows can be used for a variety of architectural styles. When used in this configuration, they are known as awning or sash windows.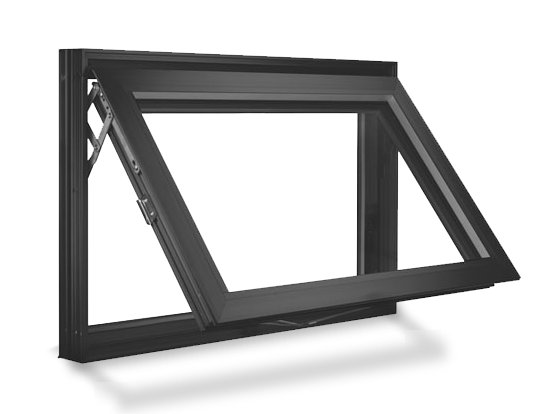 Bottom Hung Casement Windows
These windows have hinges at the bottom, and they open upwards from the top. These windows are not as common, but they can be used for specific architectural needs or ventilation requirements.
Combination Window
Certain casement windows combine multiple types in one frame. A combination casement may, for example, have a fixed panel on one side, and a single or double casement, on the other. This allows both ventilation and clear views.
Benefits of Casement Windows
Casement windows enjoy several benefits over other types; these include:
Unlike other window types, casement windows open all the way.
Double casement windows can be fitted with muntins such as fiberglass, aluminum, or wood.
Since casement windows open sideways, they easily catch the side breeze.
Casement windows are quite sturdy, which makes them an ideal fit for protection against burglars and intruders.
They are easy to clean.
Since they open manually, they need no electricity.
Where in the House Are Casement Windows Often Installed?
Casement windows easily fit the interior design of the house, similar to other types of installations (like french casement windows or double hung windows).
A common practice among homeowners is to install them on higher walls so that a breeze may enter the house from the upper levels. Regarding the latter, rods have often been purposely created to assist users in reaching the crank.
Casement windows may be found in the homes of many homeowners, and these windows can be found in a variety of areas, including corridors, bedrooms, kitchens, baths, and basements.
These windows are excellent for installation in every part of the house because of the endless number of styles (such as a single or a double hung window) from which to choose.
Concluding Thoughts
It's important to inform homeowners about the different types of casement windows and help them select one that fits their architectural style and budget. Also, energy efficiency and materials (wood, vinyl aluminum) should be considered. To ensure that the customer is well informed, it's important to discuss options such as energy efficiency and materials (wood, vinyl, aluminum).
Are you ready to bring your project to the highest level of success with our casement windows? Oridow can help you with your project. Contact us today to learn more about our casement windows, receive a quote and see the difference that we make in terms of quality and service. We look forward to working with you to make your vision a reality.