Even before the pandemic, minimal interiors shaded with the most subtle shades of white were popular. Usually, home entrances are designed to bring out the colors of the wall. Let's say if your walls are white, you might want to go with darker woody shades of brown.
The type of home entrance also depends largely on the kind of house you own. If it's a traditional mansion-style house, you'd rather its exteriors ooze a sense of rustic finesse but experiment more with the interiors. You can then go with the minimal modern look of long windy corridors and well-lit, airy rooms.
You must have noticed most modern sittings have a greater emphasis on lounge décor than any other room. And rightly so, it's the room we spend the most time in. Modern lounges are designed with the outlook of full-length glass windows supported by quality aluminum frames. The window either looks outside at the swimming pool or the garden.
For your home entrances this season, decide if you'd want to keep it traditional with huge hinged doors in the most appealing of darker shades or go for something more minimal like glass entrances. All home entrances will look swoon-worthy with double frosted glass doors in aluminum door frames in the best shades of brown like chestnut and mink brown.
Here are some home entrance ideas to make your house look as classy as ever.
Wooden Double-Doors
Wood is such a versatile architectural choice you can change the look of a room 180 degrees by using it differently. For your home entrance, wood will add a touch of traditional grandeur. There are many different kinds of wood that you can use for your entrance:
Alder
Oak
Poplar
White pine
Walnut
Mahogany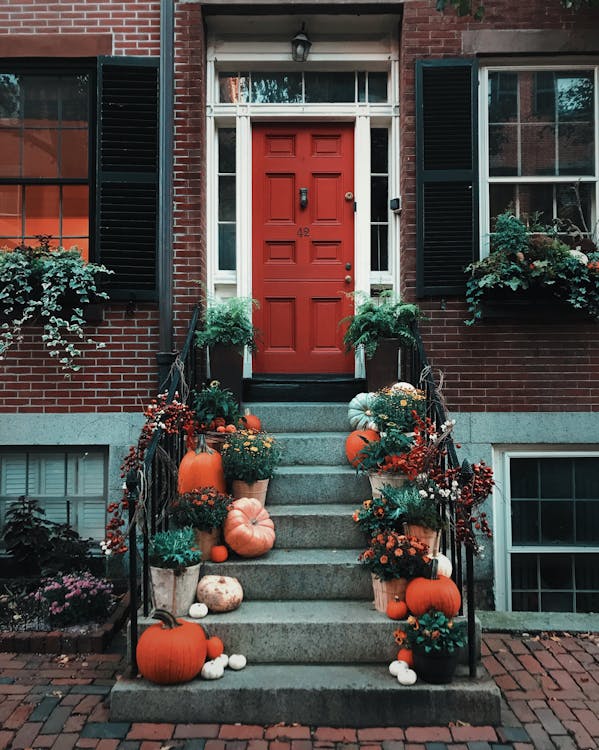 All types of wood differ from one another on account of their hardness, density, and durability. For home entrances, we'd suggest you go with a mahogany entrance door. A hardwood timber, mahogany wood turns reddish-brown at maturity. It's one of the most durable, dense hardwoods for architectural design. Mahogany also symbolizes timeless beauty as it was the first choice in French furniture designs since the 17th century.
Wooden Doors with Multiple Panels
A wooden panel is a piece of wood attached to the door after the door frame is ready. There can be more than one piece of wood attached to the door, thus introducing the concept of double-, triple-, and four-paneled doors. These panels can be attached in many ways.
While paneling suits a mahogany door, alder wood is also a trendy choice for wooden entrance doors.
Wooden Door with Glass Panels
Dakota Johnson's recent house tour with Architectural Digest exposed us to midcentury modern house entrance ideas. While the entire living room had multiple entrance doors, all doors were made of wood with full glass panels. The doors were designed in shades of wood brown with glass panels, adding a modern touch to the space.
You might want to adjust the thickness of the glass since the door will be used for exterior purposes.
For inspiration, click here to watch the AD tour video.
UPVC Doors
If you're adamant about wood being your first choice for an entrance, you can do well with its alternatives. Wood these days is used for houses with a monastic touch. Wooden doors are also high-maintenance since wood soaks moisture and can dampen over time. It doesn't take much time for wooden doors to crack. Moisture also leads to the peeling of paint from wooden doors.
If you want a wooden door entrance, be ready with some extra bucks for necessary year-round wood services.
Door suppliers now suggest people go with UPVC windows and doors. UPVC is a convenient replacement for wood that lasts longer and is more durable.
 Aluminum Frame Glass Doors
To make "modern" simple for you, understand that it'll always be paired with glass. Glass, whether tempered, glazed, or insulated, can easily be paired with some of the most minimal materials like aluminum to give your house a simple yet durable entrance.
A sleek and lightweight material like aluminum can be powdered in various colors to suit your house's entryway. Aluminum looks beautiful in neutral shades like:
Anthracite gray
Ivory White
Onyx Black
Aluminum door manufacturers necessarily provide their customers with door design and color guides to choose the shade of door frames that suits their exteriors best. Don't forget to discuss the thickness of the glass for exterior use.
Doors can be a great way to play around with light, especially in moderate climate zones. French doors are small square panels of glass joined to form a large door structure. They are exceptional for ventilation and light.
Their history can be traced back to when the French were much inspired by the Italian infatuation with proportion and symmetry. The doors then were works of great craftsmanship and immaculate precision.
The doors are an absolute classic and are presently used with aluminum frames rather than wood. Most aluminum French doors open inward and outward both. Aluminum windows and doors exporters have experts to guide you about doors that'll suit your house the best.
The trendiest doors for modern living are sliding doors made of aluminum. You can have a range of two to three panels to make them as long as possible. Most of these doors are also used in patios and balconies. You don't need a full wall door for your entrance. Opt for a two-panel sliding door with one panel fixed. The panels can be made of laminated glass to reduce sound.
Windows and door manufacturers often provide free samples of glass types. Choose the best glass type for a classy exterior.
Aluminum Doors Are Eco-friendly!
A major reason why aluminum doors are in fashion is that they are eco-friendly. They last way longer than wood and are low-maintenance. Most minimal housings rely on the simplest variety of aluminum frames with hinged doors. Aluminum is also really sustainable. It can be fully recycled after use.
Most aluminum products are great for reducing energy costs because they use Low-E glasses. Low emissivity or glazed glasses work on reducing the heat retained by doors. Strong Low-E glasses are also super convenient to clean and are low maintenance. You can discuss with your door suppliers whether opting for Low-E glass panels in your entrance doors suits your home's look or not.
About Us!
We are an aluminum and UPVC doors manufacturers based in Fuzhou, China. Our international clientele includes customers in the US and the Bahamas. As reputed suppliers of aluminum doors, we provide aluminum doors of different types, including sliding doors, hinged doors, and aluminum bi-fold doors. Our customers are also satisfied with the custom door and window manufacturing services that we offer. To buy wholesale aluminum doors with free samples and an installation guide, contact us at 86 137 5516 7195.