Privacy is a fundamental human right. We are fighting mega-corporations such as Facebook and Apple for invading our privacy, but what about our neighbors? Or the postman? Or anyone who walks by your crystal-clear windows?
Your home's windows are its portals to the outside world, and how you adorn them reveals a great deal about how you approach the interior space's design. Those who live in rural or otherwise remote places might get a chic and contemporary appearance by not covering them up.
Yet, it isn't an option for those of us who have neighbors and sidewalks and are searching for seclusion from the windows facing the street since they are facing it. Window coverings that provide privacy are an excellent method to handle the intrusions that come with everyday living. 
Here are some ways you can maintain your home's privacy.
Blinds or shades
When it comes to privacy, window blinds are a great option. They're available in many styles and designs to best fit your home. Venetian blinds, also known as horizontal blinds, are also among the most popular.
They come in a wide variety of materials, including horizontal, vertical, wood, vinyl, or plastic. You can also get vertical blinds to cover your glass doorways; these are convenient and safe for children and even a pet-friendly option for enhanced privacy.
Shades are pretty similar to blinds, but they don't have slats and don't completely block out sunlight. They're made up of fabric and allow light to filter through while still protecting your home's privacy. Choose from the many types of shades available such as roller shades and roman shades.
Benefits of blinds or shades
Improved light and temperature control
Blinds provide you the ability to limit the amount of sunlight that enters a room, giving you options such as total darkness, partial darkness, or filtered light. Because of this, they are an excellent choice for settings such as bedrooms, home cinemas, and home offices.
Improved privacy
One further benefit of blinds is that they provide a higher degree of seclusion than many other types of window coverings, which is not possible with the majority of those other alternatives. Since they can be drawn all the way, blinds make it far more difficult for would-be thieves to see through windows.
Designs, colors, and alternatives
When it comes to blinds, you will have a wide variety of alternatives to choose from (like roman shades or roller shades), not only in terms of the design of the blinds themselves but also in terms of the prices of those blinds.
Low Maintenance
One of the numerous benefits of blinds is that they are quite simple to clean whenever they become dirty. You will probably find that giving them a little dusting or wiping them down with a wet cloth occasionally is adequate to keep them looking brand new for a good number of years.
Ease of setup
Blinds are a good option for window coverings since they can be installed quickly and provide various design options. Installing brackets into a window frame, mounting a blind, and attaching the components normally take a few minutes when performed by a skilled installation. Window treatment with blinds is comparatively simpler.
Curtains
Curtains can be used with and without blinds and shades. They come in several patterns and fabrics to decorate your place, along with amplifying your privacy if used with blinds and shades.
You can also try sheer curtains to allow sunlight into your home, but be warned; they aren't the best in providing complete privacy. Heavier fabrics are better in terms of peep-proofing your house, but they will also block sunlight from getting through.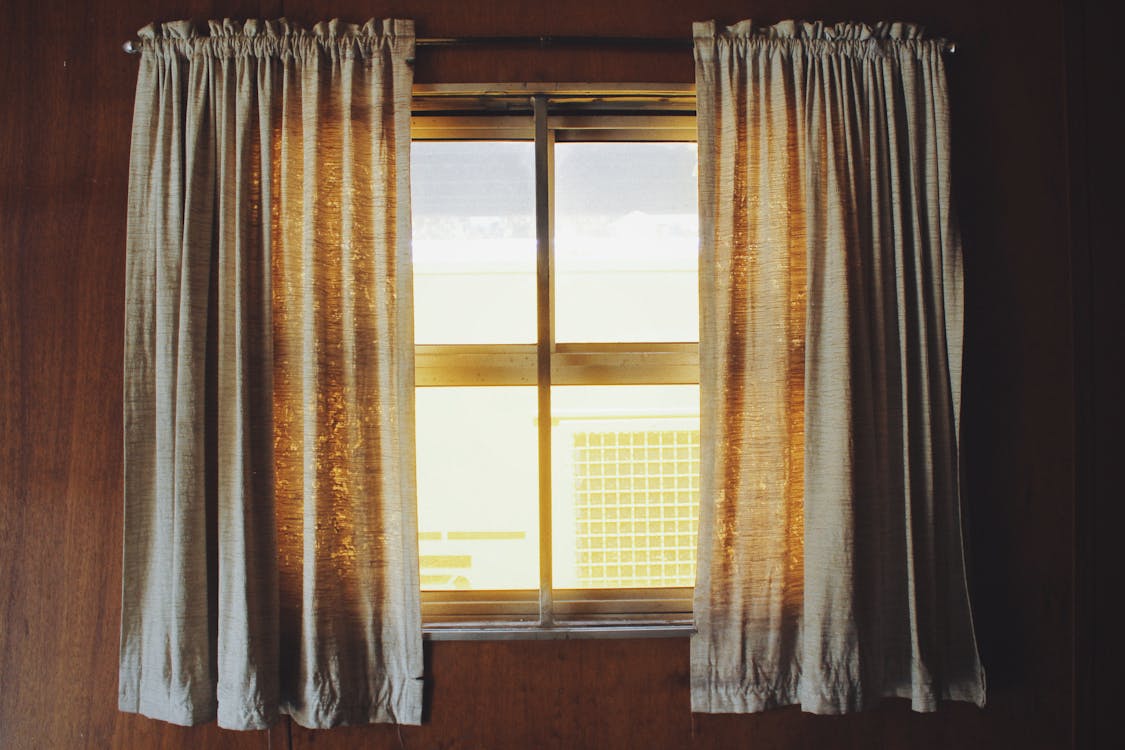 Benefits of using curtains
Enhances privacy
Curtains are an excellent way to manage and maintain the privacy of your house as well as to block the prying eyes of onlookers. Putting up a wall or other kind of barrier between you and the outside world may often provide you a feeling of protection in addition to increasing the safety of your house.
Control the amount of sunshine and your quality of sleep will increase
There is a need for light regulation in almost every area in your house, whether it's only to cut down on glare in the living room or to entirely shut out light in the bedroom. The usage of drapes or curtains is an excellent way to control the quantity of natural lighting that enters a room.
Improve the aesthetic appeal of your property
The interior design of each home is influenced by the personality of the homeowner. It is essential to locate drapes that are a good match for the room's décor and that will complement it.
Prevents dust
Curtains are beneficial because they stop dust from entering a room when they are closed. When your home's patio doors or windows are left open, particles of dust carried in the wind might find their way inside.
Economical as well as long-lasting
Curtains are very long-lasting, and their pricing may range widely depending on the style and functionality that you desire for your house. At the same time, there are choices available to accommodate a wide range of budgets and pockets.
It provides you with the benefit of being able to change them often and try out fresh styles for your house without a significant effect on your finances. This makes it better than one way window film.
Stained-glass
Stained glass has been around for centuries. In 686 AD, humans founded one of the oldest stained-glass pieces used as a window privacy screens. They are widely used in churches and other religious places to depict religious symbols and stories.
Benefits of using stained glass
Windows with stained glass give your room a distinctive look
When you choose stained glass for your windows, you are not only making an investment in windows of the highest quality, but also in one-of-a-kind pieces of art. Your home will be much more memorable if it has stained glass windows, which will leave a distinctive impact on any visitors or patrons.
Enhance the level of seclusion in a room
Stained glass windows provide a higher level of seclusion compared to standard ones. Because of the intricate ornamentation, textured surfaces, and beveled edges that cover them, it is far more difficult to see through them and they offer better privacy for windows without blinds.
Your home's value may be increased by installing stained glass
Your home may be outfitted with some of the most beneficial features available on the market by using stained glass, such as increased energy efficiency and a one-of-a-kind appearance.
Your house will also have an unique curb appeal thanks to the addition of stained glass windows, which makes a lasting impression on potential buyers and sets your property apart from the other available options on the market.
Frosted or textured glass
Textured or frosted glass film is a popular and stylish way to provide privacy to your home. Unlike regular glass, textured glass has a textured finish, and frosted glass is foggy and unclear.
These design elements of the glasses make it difficult to see through as they distort your vision. These types of glasses can also be used as shower doors or bathroom windows.
Benefits of frosted or textured glass
Easy cleaning
Frosted glass is one of the easiest types of glass to clean and maintain a clean appearance, so those of you who take pride in the cleanliness of your house will be pleased to learn this.
Just as you would clean glass paint, glass shelves, and glass bottles, a quick wipe down with a microfiber cloth is sufficient. Some cleaning on occasion is all that is required to maintain the glass in pristine condition.
Better sunlight
The fact that frosted glass lets in a substantial amount of light is something that a lot of people are unaware of. In addition to this, frosted glass is preferable to regular glass because it filters natural light better than regular glass does because of its window treatments. It shields your furniture from damaging UV rays that may otherwise degrade them over time.
Fosters privacy
As a result of its well-established reputation for enhancing one's sense of privacy, frosted glass is most often used in public restrooms, business establishments, and residential entryways.
Those who desire more privacy but do not want to completely block out the light often choose frosted glass as their material of choice for windows and doors. Although still allowing light to enter your home or business space, frosted glass provides you with additional levels of seclusion.
Want to learn more about high-quality and reliable windows and doors services? Try Oridow.
We are a certified aluminum windows and doors manufacturer, offering 24 hours technical support with a ten-year warranty.