Builders and designers have to take many factors into account when working on an office space. After all, there are many choices ranging from cabinets to fixtures. However, this is especially true when it comes to choosing doors and windows. In fact, there are many options out there with varying materials, designs, and properties to choose from.
However, aluminum doors reign supreme for their sleek frames, durability, endurance, and robust structure. Not only do they stand the test of time, but they're also energy-efficient and have a low carbon footprint.
That's why today, we're listing top aluminum door designs for office spaces to ask your aluminum door suppliers for.
Design #1: Aluminum Glass Doors
When designers and builders design an office space, they aim to add elements that can improve its aesthetic appeal as well as functionality. That's where aluminum doors come in. Aluminum doors can play a massive role in making any office space more inviting for clients and productive for employees.
In fact, large aluminum glass doors can do wonders in making office spaces look more modern and stunning. Their sleek frames give office spaces a contemporary touch which is great for creating spaces with design and quality. However, they just don't enhance aesthetic appeal but also a lot of functionality. These sophisticated doors are known for their robust structure. This is because aluminum is a durable material that doesn't corrode or rust easily.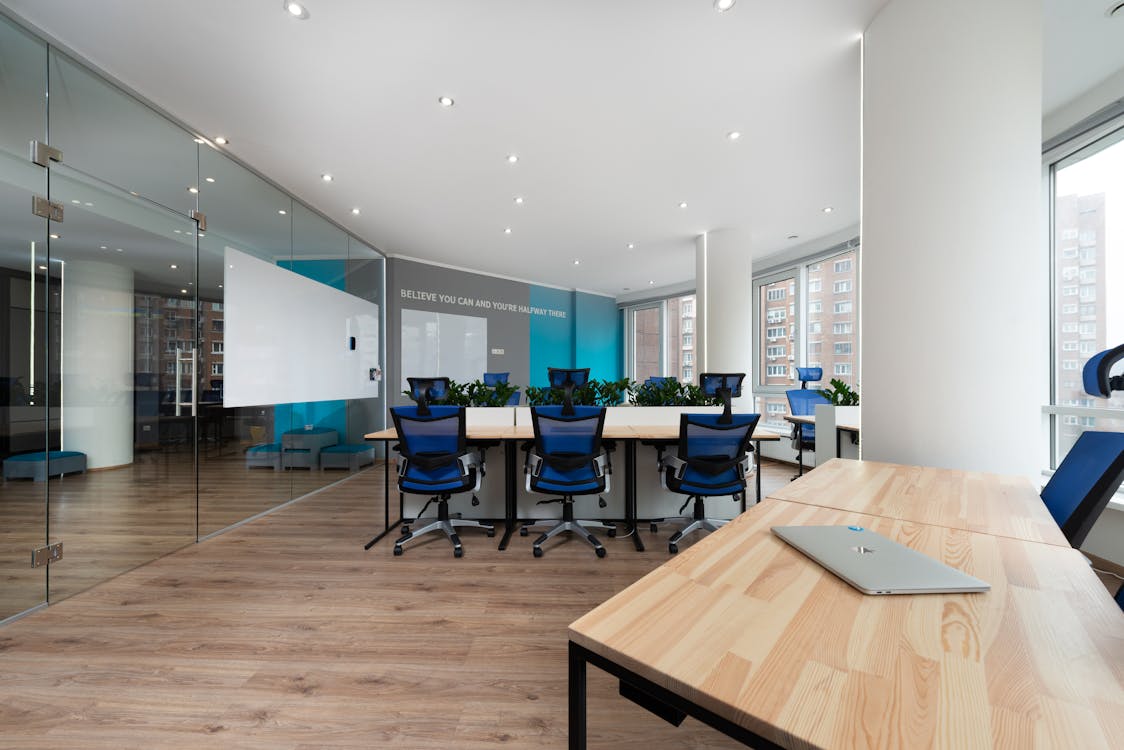 Glass aluminum doors are good additions to office spaces as their sleek and stylish designs leave a good impression on clients and employees. This is something every corporate space needs to boost its image.
Design #2: Aluminum French Doors
When it comes to adding more class to office spaces, aluminum French doors are the right fit. That's why it comes as no surprise that aluminum doors have seen a boost in popularity over the past couple of years.
In saying that, French doors aren't just for adding much-needed visual appeal— they're also an extremely practical option. That's because aluminum French doors basically act as windows for any space by allowing more light in.
This makes these doors essential for office spaces because natural light helps the body produce more serotonin. In this way, aluminum French doors can help boost employees' mood and productivity. Additionally, they also help lower utility bills as they have thermal insulation and reduce the need to utilize artificial light. This in turn increases profits for companies.
Design #3: Aluminum Sliding Doors
Any builder or designer knows the importance of creating the illusion of a spacious room. In fact, making a space look more expansive is one of the most crucial objectives when designing any building. Installing the right windows and doors is an essential part of the process. So, when it comes to installing doors that add more space, aluminum sliding doors should be your preferred choice.
Aluminum sliding doors don't just come with a lot of functional benefits; they also have a lot of aesthetic appeal. This is important as doors can make or break the aesthetics of any room. These doors have sleek and stylish designs that can be the right fit regardless of the architectural style of the building. However, aluminum sliding doors are the most popular additions to modern and contemporary designs. It's why you'll find more offices and skyscrapers with aluminum sliding doors.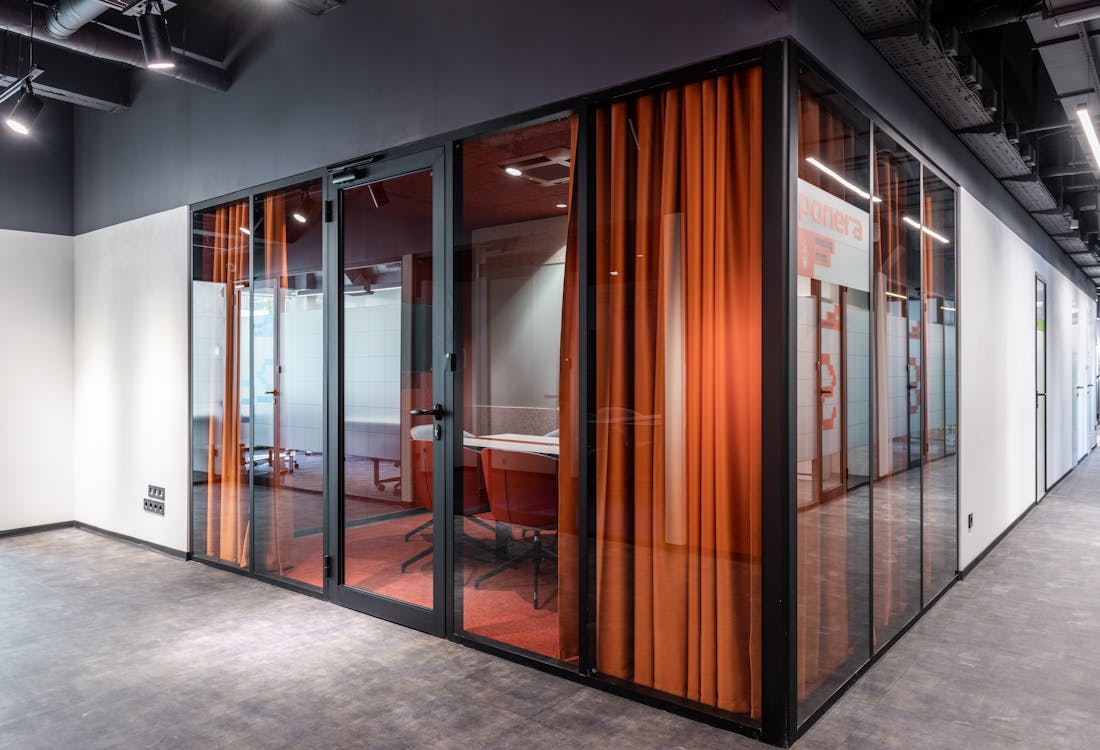 Design #4: Aluminum Automatic Sliding Doors
If you want to go all out, why not opt for automatic sliding doors? These are the perfect fit for space management while also promoting an aesthetically-pleasing futuristic design. Moreover, automatic aluminum sliding doors offer ease of access to employees and clients.
Automatic aluminum sliding office doors can be customized in a number of ways, including, remote control access, keypad access control, infrared sensors, touchless switch, etc.
These doors provide ultimate convenience to visitors and clientele. That's because automatic sliding doors come with easy access to the office interior without the need to push anything. These doors slide open and close automatically when necessary by utilizing motion sensors. This ensures contactless access, something that's extremely crucial in this post pandemic world.
That's not where the benefits end; these doors also have minimal maintenance requirements, making them the perfect addition to commercial spaces.
Design #5: Aluminum Barn Doors
When it comes to stylish, sleek, and unique office door designs, aluminum barn doors can be the right fit. After all, you can't go wrong with the harmonious combination of aluminum and glass? Like other doors in this blog, these doors are also helpful in letting ample sunlight into concrete-walled spaces. This is why most people tend to prefer these aluminum doors for exterior spaces.
In fact, these are ideal for adding ample sophistication to lobbies and reception areas. As a result, they can set a good impression on visitors and clients.
Design #6: Aluminum Revolving Doors
These designs have been popular in more commercial buildings for a long time now. You can find them in all shopping complexes, multinational company offices, hospitals, etc—and for a good reason; these doors are stylish and can make commercial spaces look more professional. As a result, they can create a lasting impression on your visitors and clients.
This is especially true for retail businesses because creating a positive customer experience is essential for customer retention and loyalty. This is something all retail owners need to ensure success.
However, these doors are not just to create a strong impression as they also come with tons of practical benefits as well.
First, aluminum revolving doors significantly lower energy costs because they're sealed and don't allow drafts in the building. In this way, it's easier to maintain the temperature inside. As a result, they also reduce the costs of energy bills.
Design #7: Aluminum and Glass Swing Doors
Consider the doors of your bedroom or bathroom that have two hinges. These are called swing doors, and they open either inward or outward. Aluminum swing doors with glass panels are a leading choice for office spaces as they come in a variety of designs.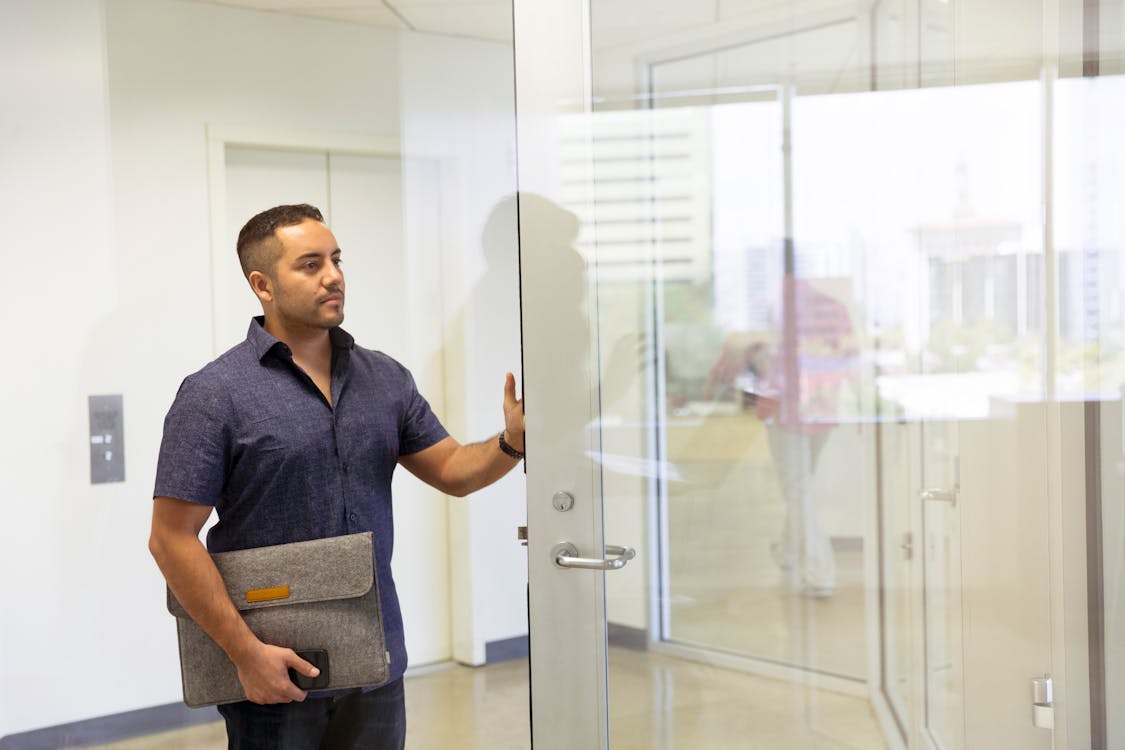 If you're looking to buy wholesale aluminum doors for office space, it's vital that you contact the right door suppliers.
That's why you should consider Oridow's services when it comes to purchasing doors and buying aluminum windows in bulk.
Oridow is proud to be a renowned aluminum doors and windows manufacturer based in Fuzhou, China. Our company offers a range of various high-quality aluminum doors and windows, such as aluminum sliding doors, aluminum French doors, aluminum bi-fold doors, aluminum casement windows, and more.
Visit our website now to shop our aluminum doors and windows online or contact us to learn more about our various services, products, and customization options.