Aluminum bifold windows are a modern architectural marvel. They are extremely popular because they seamlessly integrate indoor and outdoor areas while allowing natural light into your home or workplace. These windows can completely transform any room. They offer versatility and an aesthetic appeal.
Aluminum bifold windows can be configured in either a horizontal or vertical orientation to suit your needs. These windows have a modern, sleek look that compliments the clean lines in modern architecture. They are a great choice for architects, homeowners, and businesses.
This blog post will dive deep into the world aluminum bifold windows. We will explore their unique benefits and features as well as how they can transform the way that you live or work. Let's begin this journey to learn how aluminum bifold windows can transform your living space and create an uninterrupted connection between indoors and out.
Understanding Aluminum Bifold Windows
What are Aluminum Bifold Windows
Aluminium bifold windows offer a unique architectural solution to opening up space in an elegant and sophisticated way. These windows are made up of several panels that can be stacked or folded to create a large opening. This ingenious design provides unobstructed views, and allows for a harmonious integration between interior and outdoor spaces.
How do aluminum bifold windows open?
The aluminum bifold window opens by stacking or folding the panels concertina style. The panels can be pushed to one side in order to create a seamless transition between indoor and outdoor areas.
Exploring vertical bifold windows
What are vertical bifold windows?
Vertical bifold windows, often referred to as fold-up or fold-out windows, are a distinct architectural feature that folds their panels vertically. This innovative design not only enhances the inflow of natural light but also offers uninterrupted panoramic views of the outdoors.
Since the window folds vertically, it doesn't occupy valuable space. This makes it an excellent option for restaurants and coffee shops looking for a convenient pass-through window solution.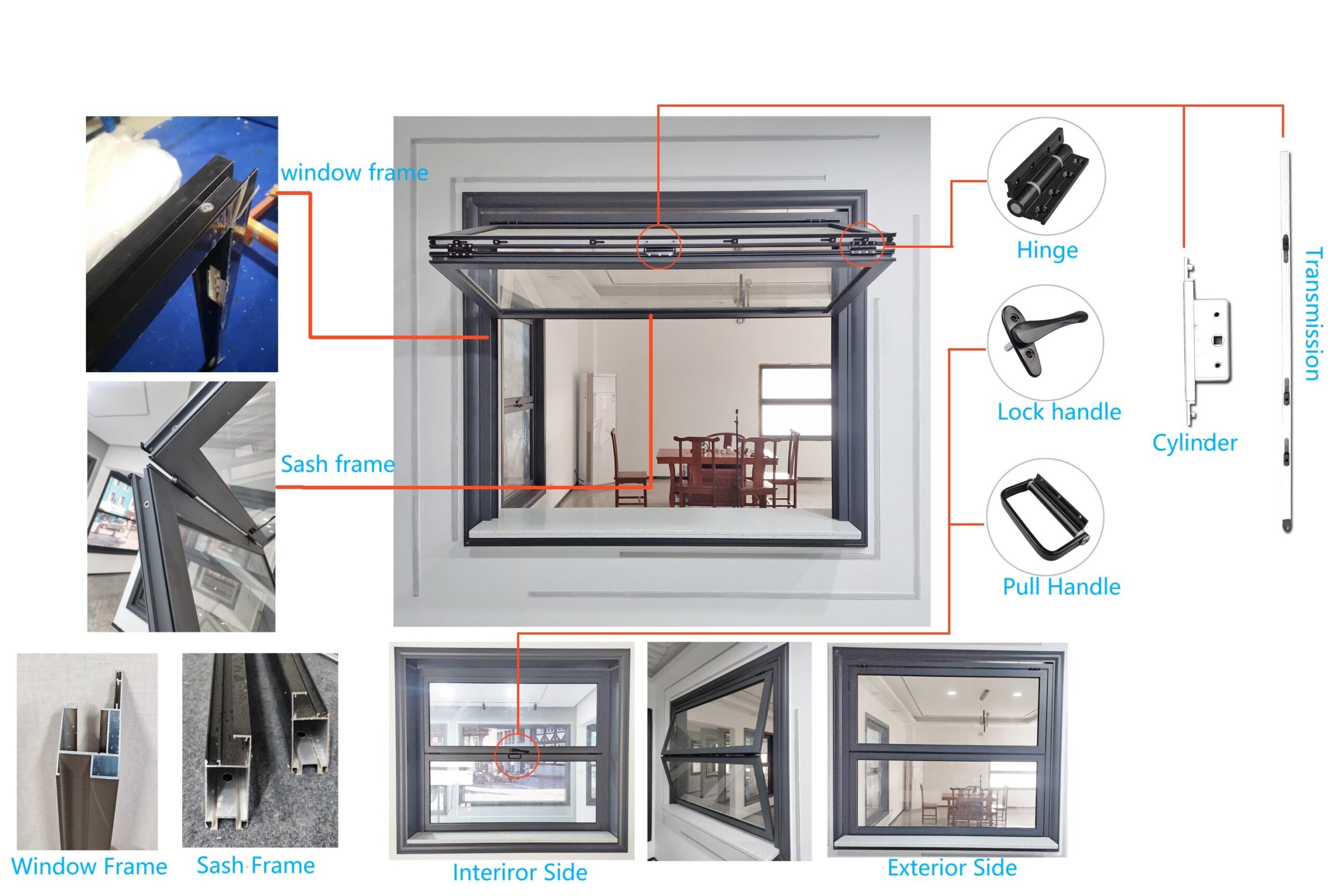 How do vertical bifold windows fold?
A Double Hung Window typically consists of two sashes that move vertically, limiting the open window area to less than half of the total.
In contrast, the fold up window introduces an innovative design with hinged and balanced sashes. When fully opened, it can provide an expansive view with up to 80% of the window area accessible. This not only enhances airflow but also offers a distinctive solution for specific egress requirements.
Vertical bifold windows provide remarkable flexibility, offering the option to fold them inwards or outwards, with or without a lower rail, in accordance with your specific design preferences and personal taste. Their high-quality transmission system ensures smooth folding at any position with utmost ease. Additionally, the user-friendly pull handle facilitates effortless window operation, making opening and closing a breeze.
Applications for Residential and Commercial Use
Both residential and commercial spaces are popular with vertical bifold windows. They can be used as a servery window to transform the living room, kitchen, or dining area, and create a seamless connection with outdoor patios or gardens. They can be used in commercial settings as a pass-through window to enhance the atmosphere of retail stores, restaurants, and cafes.
Exploring Horizontal Bifold Window
What are horizontal bifold windows?
Bifold windows with horizontal panels are the opposite. This configuration offers a unique set of design options and advantages. We'll explore the unique features of horizontal bifold Windows.
How do horizontal bifold windows fold?
Bifold horizontal windows can be folded inwards or outside, just as their vertical counterparts. This flexibility allows you to customize your windows based on the layout and architectural style of your room.
Real-Life Applications
Bifold horizontal windows can be used in a variety of architectural settings. These windows are commonly used in living rooms, kitchens, and bars to create a seamless transition from indoors to outdoors. These windows will allow you to open up your room and let in fresh air.
Applications and Uses
Residential Use
Aluminum bifold windows can be used in both vertical and horizontal configurations. Here are a few key areas in which they can enhance your home:
Living Rooms: Use a focal point to blur the lines between interior and exterior space.
Enjoy easy access to outdoor eating areas and improved ventilation.
Bedrooms: Enjoy the natural light, panoramic views and beautiful scenery to begin your day.
Patios and Gardens – Enhance the outdoor living experience by transforming your indoor space to the outside.
Commercial Use
Commercially, aluminum bifold windows offer both practical and aesthetic advantages.
Restaurants and cafes: Create an inviting atmosphere and offer alfresco dining to attract diners.
Retail Stores: Display your products in a well-lit, open space to attract customers.
Offices: Create a dynamic working environment by incorporating flexible meeting areas and natural lighting.
Additional Questions about Aluminum Bifold Windows
Do Aluminum Bifold Windows have fly screens?
Many bifold windows can be fitted with insect or fly screens. These screens keep pests and insects out, while still allowing air to enter the room when the windows are opened. Fly screens can either be installed on the inside or outside of bifold windows depending on their design.
Do aluminum bifold windows fold in or out?
Bifold windows are available in both an outward and inward configuration, depending on their design. Bifold windows that fold inwards are the most common. The window panels will fold toward the inside of the building. Outward-folding windows are available and can be selected based on architectural or spatial considerations. The folding direction is usually determined during installation to meet the preferences of the designer or homeowner.