Aluminum windows are preferred for their high durability and classic designs. They add an elegant touch with a minimalist look.
This lightweight, corrosion resistant option has remained a top recommendation for years. Homeowners and commercial businesses equally prefer aluminum windows, primarily because of their affordable costs.
While the classic silver style is somewhat a standard for the market, some people prefer to add a hint of color. There's a misconception that you can't have colored options. At Oridow, we offer a number of factory-applied color options.
In case you're looking for a different shade to set an interior theme or just prefer to do it on your own, here's a guide for painting aluminum windows:
Step #1: Prep the windows
First, give them a thorough cleaning to get rid of dirt and debris. This will ensure nothing obstructs the paint from being taking up.
Mix some powdered soap (like a powdered laundry detergent) and some warm water to make a cleaning solution.
Protect wood and glass portions by covering them with a masking tape, and lay down old clothes or towels on the ground below the windows.
Use a clean cloth to wipe the frames, rinse using a hose, and then leave them to dry.
Step #2: Apply primer
Drying will take at least 48 hours. Once dry, get ready to apply a metal etching primer. The primer ensures that the aluminum frame will take the paint well.
You can apply it directly to the aluminum frames using a latex brush; or add half liter of paint thinner to 4 liters of primer if you're working on a tight deadline. The thinner helps the frame take the metal and it dries off faster.
After application, allow it to dry for a minimum of 4 hours.
Step #3: Start painting!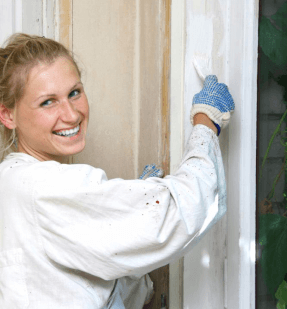 In this final step, you begin painting the aluminum windows using an acrylic latex paint. Pick a color that goes with your theme of choice and start painting.
You can use the same latex brush with which you applied the primer, but make sure it's thoroughly rinsed. Once you're finished painting, allow it to dry for at least two hours.
You may want to ensure a smooth coverage with additional coats. Finally, remove the tapes after the paint is completely dry. Your aluminum window frames are ready!
It's a great DIY project of those who love to design things their own way. But if you'd rather not take the chance, order our modern aluminum window options.
You can pick aluminum sliding windows, tilt turn, bi fold or casement windows. We also offer custom aluminum windows so you fabricate the design any way you want.